Skip to Content
We're Here When You Need Us Most: Weekend Appointments Available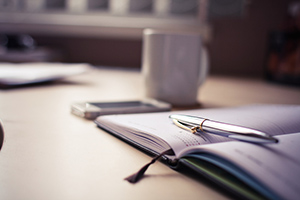 For many of us, life is a whirlwind of daily activity that never seems to slow down. Between juggling work, school, family, and social obligations, it can be difficult to squeeze in any type of extra A patient with their planner out as they schedule a weekend appointment at West Chester Dental Group.activities or appointments, even if they're important in terms of maintaining our health and well-being. Paying a visit to the dentist often falls into this category – while we all know that it's important, our hectic schedules can sometimes keep us from being able to take time off during the week for a dental appointment.
Fortunately, West Chester Dental Group is also open on the weekend! For your convenience, we take appointments on Saturdays. Below are just some of the many services that are available to you when you stop by.
1. General Dentistry
As Benjamin Franklin once wisely quipped, "An ounce of prevention is worth a pound of cure." This definitely holds true when it comes to maintaining good oral health. If you want to keep your teeth healthy and strong, it starts with being careful not to neglect basic routine cleanings and seeking the advice of dental professionals who can teach you proper oral hygiene techniques. At West Chester Dental Group, we offer a variety of general dentistry services including:
Teeth Cleaning – Coming for regular teeth cleaning every six months is one of the most important and reliable ways to ensure good oral health.
Dental Sealants and Fillings – Fight cavities, prevent tooth decay, and protect your teeth from potential problems down the line.
Oral Cancer Screenings – Using innovative VELScope technology, we can detect early signs of oral cancer in order to develop effective treatment plans that can help you protect your oral health.
Oral Hygiene Instruction – Knowledge is power, and when you've been equipped with the right information regarding proper oral care, you'll stand a much better chance of keeping your teeth healthy throughout your lifetime. Our team loves sharing knowledge and information regarding how to maintain good oral hygiene so that our patients can set themselves up for long-term success.
2. Cosmetic Dentistry
Having a beautiful smile can do wonders for your confidence level, and it can have an amazing impact on your personal and professional life. At West Chester Dental, we pride ourselves on working with patients to repair, restore and brighten smiles that have been negatively impacted by issues such as chips, cracks, discoloration, lost teeth, excess gapping, etc. Some of the smile-transforming services we provide include:
Teeth Whitening
Dental Implants
Tooth-Colored Composite Fillings
Porcelain Crowns and Veneers
Porcelain Inlays or Onlays
Porcelain Fixed Bridges
3. Restorative Dentistry
Perhaps you have some missing teeth and you would like to know what can be done to restore your smile. Our team at West Chester Dental Group specializes in providing a wide variety of restorative dentistry services that can not only improve the appearance of your smile but can also help restore the full functionality of your teeth. Our restorative dentistry services include:
Dental Bridges
Dental Implants
Root Canals
Dental Crowns
Dentures (full and partial)
At West Chester Dental Group, we understand that a weekday appointment is not always doable. Take advantage of our weekend hours, so that you won't have to neglect your oral health due to a crowded schedule. Call us today at 513-942-8181 or use our online interface to set up your appointment. We're here when you need us most!