Skip to Content
3 Treatment Options for Whiter Teeth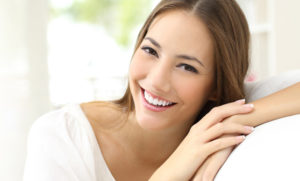 It's hard to beat the feeling of confidence you can get from having a brilliant white smile. It radiates an air of happiness and health, and in many ways, it can brighten up your entire appearance. With benefits such as these, it's no wonder why so many people seek teeth whitening treatments to enhance their smile. If you've been wondering what treatment options are available for you to whiten your teeth, below are three of the most popular options in use today.
1. Take-Home Whitening Trays
This is one of the easiest and most popular treatment options available from your dentist. This process typically involves using a gel solution comprised of carbamide peroxide, which is delivered to the surface of the teeth by way of custom-made mouth trays. These trays basically take on the shape of your teeth and are made of a thin, flexible plastic material. To apply the treatment, you will simply fill the mouth trays with the whitening gel and then leave the trays on your teeth for a certain period of time determined by your dentist. By consistently applying these treatments as prescribed by your dentist, you will be well on your way to a whiter smile.
2. Zoom! Whitening
This is a professional-level teeth whitening treatment that is only available from your dentist. The Zoom! teeth whitening solution is a fast, safe, pain-free, and highly effective way to whiten your teeth, and it utilizes professional-level equipment to deliver dramatic results in a very short period of time. There is a handful of Zoom! treatment options to choose from, ranging from quick in-office treatments to take-home whitening kits.
In terms of speed and convenience, you really can't beat the Zoom! WhiteSpeed in-office treatment, which can deliver a smile up to eight shades lighter in only 45 minutes. During this procedure, your dentist will take impressions of your teeth in order to fabricate custom-made trays that will be used during the treatment. Your dentist will then guide you through three separate 15-minute whitening sessions, with an option to do a fourth session if need be. The powerful Zoom! WhiteSpeed LED lamp will accelerate the whitening process, producing a remarkably brighter smile in less than one hour!
3. Veneers
Veneers are made of a thin porcelain laminate, and they are applied to the outer surface of the teeth using a special adhesive. They are designed to enhance the appearance of your smile and can mask a variety of dental imperfections including chips, cracks, gaps, and bad stains. Veneers are essentially designed to be a substitute or replacement for tooth enamel, and when you work with a dental professional, he/she will select the most fitting shade of porcelain to replicate the color of your natural enamel. Porcelain veneers are very strong and durable, and since they're not susceptible to staining like natural teeth, they can provide you with a nice, white smile for years to come.
If you've been thinking about getting your teeth whitened, West Chester Dental Group can help. Our dental professionals employ safe and highly effective dental technologies that can restore your smile's luster, with personalized service that will help you get the most out of your teeth whitening treatment. Contact us today to set up your free consultation, so we can help you achieve the radiant white smile you deserve!