Skip to Content
Transform Your Smile With Porcelain Veneers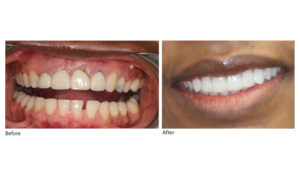 Are gaps, chips, cracks, discoloration, mild misalignment, or odd proportions preventing you from showing off your pearly whites? If so, we have the perfect solution, porcelain veneers. Contrary to popular belief, porcelain veneers are an affordable, quick, and painless way to improve your smile and confidence.
What Are Veneers?
Veneers are thin shells of porcelain that are custom created by your dentist at West Chester Dental Group to fit over your existing teeth. Your dentist will work with you to create a smile that is natural-looking and perfectly you!
Why Porcelain?
The experts at West Chester Dental Group choose to work with porcelain as opposed to other materials, such as composite resin, for a more natural result. After all, porcelain has a sheen and translucency similar to that of your tooth's natural enamel.
What to Expect
For traditional porcelain veneers, you will need to schedule two visits with your dentist. In the first visit, your dentist will focus on the overall design of the veneers, including color matching and shaping. When you return for your second visit, your dentist will assess the veneers for shape, color, size, and fit. Once the veneers are perfect, your dentist will bond the veneers to your teeth using a dental adhesive. Your dentist may schedule a follow-up visit to ensure you're comfortable with your new veneers.
The experts at West Chester Dental Group also offer Lumineer prepless veneers, which allow you to enjoy the benefits of traditional veneers without the prep. With traditional veneers, your dentist will shave a portion of your teeth for a better fit, but with Lumineers, this isn't necessary. The veneers are so thin they can be placed directly on your teeth, which means you'll spend less time in the office.
Benefits of Veneers
Unlike orthodontic procedures, veneers can enhance your smile in minimal time and without the use of unsightly dental appliances. When properly cared for veneers can last more than 10 years, meaning they also offer a more permanent solution to teeth whitening treatments.
How to Care for Veneers
Caring for your veneers is easy, simply brush and floss as you did in the past. Remember, your veneers will likely need to be replaced at some point, but using proper oral health techniques will help your veneers last longer.
Your smile is more than a source of beauty; it's a source of confidence. If you're concerned with the appearance of your smile schedule an appointment with your dentist at West Chester Dental Group. Our team of experts will be able to help you determine if porcelain veneers are right for you and answer any questions you may have. So, what are you waiting for? Call today to discover the benefits of veneers and get the smile you've always dreamed of!