Skip to Content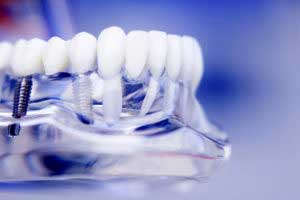 There are few things more important than making sure that you have healthy teeth. We only get one set of adult teeth, but if you have lost a tooth, or have severe damage to your teeth, there is hope yet. At the West Chester Dental Group, we make it possible for everyone to restore the health of their teeth, no matter what they may be dealing with. When it comes time to pull a tooth due to decay or poor health, it is important to substitute that tooth with a dental implant. Using state of the art technology and techniques, the West Chester Dental Group will make your dental implant process smooth and easy.
The Benefits of Implants
When you have a tooth pulled or you lose an adult tooth, it is important to fill the gap left behind with a dental implant. Taking care of this gap right away will allow you to ensure that the rest of your teeth stay healthy and problem-free. If the gap is left behind, it becomes a gathering place for bacteria. Any irregular gaps in your teeth will become a place for old food to settle and bacteria to grow and will leave room in your mouth for your teeth to shift erratically. This, in turn, can lead to big complications down the line.
Dental implants take care of this issue by putting a fully functional and working tooth in place. The implant procedure is spread across 2-3 visits, allowing your gums to adjust to the new addition and allowing the implant to settle and mimic the placement of a real tooth. Your new implant will function just like a natural tooth.
Implant Retained Crowns & Bridges
If a patient is in need of more than one individual implant, we will use the latest in implant-supported crowns or a fixed bridge. If a patient needs three or four consecutive teeth implanted, we will have a row of replacement teeth fused together and support them with a post on each side. The process is quick and easy and will leave you with natural-looking, beautiful teeth.
Implant-Supported Dentures
If a patient requires more than four teeth replaced we will usually recommend an implant-retained prosthetic. These prosthetics are much less invasive than the alternative and essentially act as a full or partial set of dentures. Partial dentures are custom shaped to fit perfectly to replace missing teeth. These prosthetics fit snugly on the gum line, keeping your teeth looking healthy and natural.
Dental implants are easier to use than ever before and can be implanted with little to no discomfort. If you are looking to restore health to your teeth in a stress-free environment, contact the experts at the West Chester Dental Group. Schedule your initial appointment today to see how we can help you!