Skip to Content
Dentistry for the Whole Family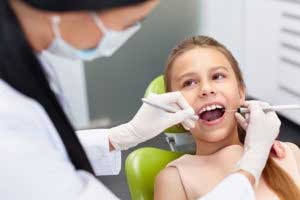 Finding the right dental practice for your whole family can be an arduous process. You need a family-friendly dentist for your kids balanced with the knowledge of how to deal with real adult dental issues. If you are looking for one dental practice that can do it all, look no further than West Chester Dental Group. With children-focused dentists interspersed with our adult-focused dentists, we make it possible for your whole family to get their teeth taken care of under the same roof. You can even schedule family visits, which means that you only have to take one trip to take care of your entire family. If you would like to learn more, or to schedule your appointment today, visit our website today!
Child-Friendly Dentistry
Dental needs come in all shapes and sizes, and children require a whole different skill set than adults. As adult teeth come in, your child's mouth can get crowded, leading to crooked teeth and other issues. If you have very young children, they may be afraid of the dentist and not want to go if their first experience is not good. That is where our elite staff of doctors come in. We know how important it is to set your children up for a lifetime of healthy oral hygiene habits, so we build those teachings into our normal cleanings.
Our doctors also create a friendly, stress-free environment that is comfortable for even the most squeamish dental-goer. We are happy to offer our patients with everything from fresh bottled water to warm and cozy blankets to feel comfortable throughout your visit. By creating an environment of comfort built on the best practices in the industry, we keep your family's teeth happy and healthy.
Our Dentists
The most important part of finding the right dental practice is finding the right dentist. Our dentists believe in working directly with each patient to find how best to serve you and your needs. This begins with a quick discussion of your goals, habits, and needs for your overall dental health. If you are squeamish or afraid of the dentist, we proudly offer sedation dentistry so that you can rest easy knowing your teeth are healthy without the stress.
Our dentists believe in going the extra mile for our patients. With decades of experience in the dental field, our dentists have seen it all and are masters of their respective crafts. Our dentists know the importance of your comfort and work constantly to improve their skills and learn the newest techniques and trends in the field. In 2011, one of our
resident dentists, Dr. Dong-Il Kim was selected as "The Best Dentist in America". This drive for greatness in the dental field makes our staff truly elite in the industry.
If you are looking for the right dental practice for your whole family, the West Chester Dental Group is the perfect place for you. Our patient-first focus combined with decades of experience in the dental field makes our practice truly unique. Click here to schedule your family's first appointment today!