Skip to Content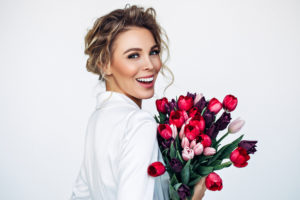 Having a straight and white smile is one of the biggest desires for most Americans. Straightening your teeth can take years with gradual shifts made through braces, retainers, or Invisalign. Whitening your teeth, on the other hand, can be a much more streamlined process. Here at West Chester Dental Group, we offer a wide variety of whitening options that work well for anyone looking for whiter teeth. Zoom whitening is a bleaching process that has become immensely popular around the world to lighten the discoloration caused by common foods and drinks. If you drink coffee, cola, red wine, or smoke, your teeth most likely have become stained or discolored. Zoom whitening is one of the best ways to combat the staining process caused by these common drinks. Schedule your consultation with West Chester Dental Group today to see if Zoom whitening is right for you.
How Zoom Whitening Works
Zoom whitening is a bleaching process that takes place over the course of a single two-hour visit. Our dentists then use the Zoom Advanced Power Chairside Lamp to activate the bleaching solution. This lamp accelerates the bleaching process and activates the hydrogen peroxide in the bleaching solution. As the hydrogen peroxide is broken down with the help of the lamp, oxygen enters the stained enamel and dentin of your teeth and actively bleaches away the stained areas of your teeth. The best part of this treatment is that it doesn't affect the tooth itself, just the enamel. That means that you should experience less tooth sensitivity afterward and greatly reduce any chance of damaging your teeth.
The procedure itself is made up of four 15-minute sessions. Each session begins with a quick application of the Zoom hydrogen peroxide whitening gel, which is then activated by the Zoom Advanced Power Chairside Lamp. Each session ends with the application of a sensitivity-reducing fluoride paste-gel. Once that is over you are out and on your way.
Your Path to White Teeth
The whitening process with Zoom Whitening will vary in length depending on your desired results and the staining of your teeth. The session will last about two hours and you will notice a distinct difference in your teeth's whiteness. After your session is finished, you will be given a Zoom take-home touch-up kit with custom whitening trays.
The Zoom Whitening procedure will effectively whiten your teeth and reverse the effects of staining, but it will not create a barrier against future discoloration. In order to ensure that you don't stain your teeth again, you may want to avoid or limit the ingestion of staining foods like coffee and wine and all tobacco products.
If you have been interested in whitening your teeth, Zoom Whitening could be perfect for you. With noticeable results after one session, you will leave our office feeling great about your new white teeth. If you would like to learn more about your whitening options schedule an appointment at West Chester Dental Group today!